Sony SNC-RZ30N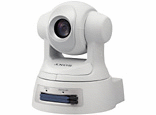 Resolution
736x480
640x480
320x240
160x120
Frame Rate
30 @ 640x480
Sony SNC-RZ30N
Combining network functionality with Pan/Tilt/Zoom (PTZ) capability, the SNC-RZ30N camera takes remote monitoring and general IT applications to the next step by offering the flexibility to see almost anything within the camera's range and field-of-view over an ordinary TCP/IP network. By simply using a popular web browser like Microsoft™ Internet Explorer, images and the PTZ movement of the SNC-RZ30N camera can be controlled using a PC at any location and at any time without the need for any additional software or plug-ins. In addition, installation and operation of the SNC-RZ30N camera is easy thanks to its browser based set-up menu and user-friendly GUI (Graphic User Interface). The versatile and flexible SNC-RZ30N is packed with incredible features and comes in a sleek, compact and lightweight design that can be ceiling mounted or placed on a flat surface.* The SNC-RZ30N is an ideal choice for virtually any IP remote monitoring application! * If the SNC-RZ30N camera is installed on a desktop, captured still images and composite video output images will be inverted.
Features
25x Optical Zoom Capability - Allows a user to zoom in on small or distant objects with exceptional clarity.
High-resolution CCD sensor - Produces high quality images and transmits low compression ratio motion JPEG image files.
Built-in PCMCIA card slots to expand memory or go wireless! - As wireless networks become more commonly used, you can now install the SNC-RZ30N camera without unsightly wires. The SNC-RZ30N's two Type II PCMCIA card slots are now compatible with CISCO's Aironet® 350 series of IEEE 802.11b compliant wireless PC cards or you can further expands the camera's memory with a flash ATA card or ATA HDD card, allowing for tens of thousands of images to be stored.
Pocket PC PDA Compatible - The SNC-RZ30N can now also be accessed and controlled via Hewlett-Packard/COMPAC's iPAQ™ H3995/H3975 handheld PC PDAs and Toshiba's Genio® e550 GX handheld PC PDA.
Click'n PTZ Function - Adding to its already powerful P/T/Z functions is the SNC-RZ30N's ability to now rapidly recenter the selected area of a larger image with just the click of a mouse. Thanks to its newly incorporated Click'n PTZ function, all you need to do is click, drag and release to quickly zoom in on a particular area. In addition, the newly zoomed image automatically recenters itself within the display.
Improved Touring Function - The SNC-RZ30N allows touring to resume after interruption. Normal tour is interrupted when the user starts to remotely control the camera. The SNC-RZ30N's improved touring function now automatically resumes to tour after the user-defined period of inactivity.
Analog composite video output connector - Unlike most network cameras, the SNC-RZ30N has an analog composite video output connector for outputting video to a local recorder, making it ideal for reviewing activity that might have been missed while monitoring in real time.
High quality image/ selectable parameters - The SNC-RZ30N has a number of selectable parameters that make it easy to match the quality of the image with your bandwidths. The resolution can be selected from a choice of 736 x 480, 640 x 480, 320 x 240, and 160 x 120. You can set the parameters so that images are still very clear with no image break up.
Image transfer using FTP/SMTP - Because the SNC-RZ30N supports both FTP and SMTP protocols, JPEG still image data can be transferred, as required, either to an FTP server or a specified e:mail address as a JPEG attachment.
Activity Detection/Alarm Trigger - The SNC-RZ30N has a built-in motion and light sensor that can trigger an alarm or a switch. In addition to using these built-in sensors, a system can be configured such that up to three external sensors can be connected to the SNC-RZ30N for use as an activity detector.
Analog Composite Video Output - The SNC-RZ30N can output an analog composite video signal via a BNC connector on the camera's rear panel. This is an ideal feature for sending signals to a local recording device or monitor.
VISCA ™ RS-232C/485 Protocol - The SNC-RZ30N can now be interfaced with external control equipment using the VISCA protocol. This configuration allows for local control of the P/T/Z and camera settings.
Simultaneous Access - Up to 50 users can simultaneously access a single SNC-RZ30N camera to monitor images and control the unit. One of two control modes for the camera can be set up the administrator, allowing control of the camera to be shared by a number of users.
Network Security - IP Filtering - User access to the SNC-RZ30N can be limited by IP filtering. Up to 10 different groups can be established by defining an IP address range for each group. This allows users with IP addresses in a defined range to access the camera while denying access to all other addresses.
Network Security - Password Protection - Users names and passwords can be assigned to allow four levels of access. Generally, the administrator has complete access/control of the camera, while the other level levels can be set to limit user privileges to functions such as PTZ control, viewing trigger control, etc.