DCS-900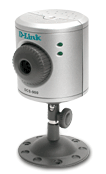 Resolution
640x480
320x240
Frame Rate
1, 5, 7, 15, 20 or Auto
D-Link DCS-900
Introducing the DCS-900, the latest addition to D-Linkís Internet Camera family of products.
The DCS-900 Internet Camera combines the functionality of video surveillance with the reliability and scalability of Fast Ethernet. With its compact, all-in one design, the DCS-900 is a low cost remote monitoring solution and ideal for home use.
The DCS-900 connects quickly and easily to your existing Fast Ethernet network and a setup wizard guides you through the set up process to get you up and running in a matter of minutes.
The DCS-900 features a built-in web server which means that you donít need to have a computer to stream video images directly to the Internet. Video images captured by the DCS-900 can be viewed remotely by typing an IP address into a Web browser. With its easy-to-use Webbased interface, the DCS-900 can be managed and configured from anywhere in the world.
The included Windows-based software provides even more features, allowing you to archive streaming video straight to your hard drive and monitor up to 4 cameras on a single screen, and update the firmware on your DCS-900.